WHAT ARE ARGENTINE ANTS?
Originally from South America, the Argentine ant has become a problematic invasive species worldwide. With no natural predators, Argentine ants will often overpower native ant species. If ant allegiances are broken or can't be made, these ants will take over native ants. There are even reports in Europe of a 3,700 mile-long Argentine ant colony along the Mediterranean coast.
Color
: Dark Brown to Black
Size
: 1/16 – 1/4 inches (1-6 mm)
Legs
: 6
Antennae
: Yes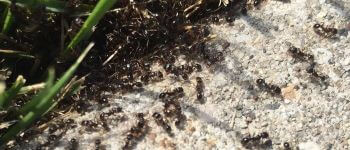 HABITAT
Argentine ants prefer to nest outdoors in piles of wood or debris. Colonies can grow quite large, containing thousands of ants and several queens, because these ants form alliances with other ant colonies. Argentine ants are more common in southern states, but they have been found in Illinois, Indiana, and Missouri.
HOW TO GET RID OF ARGENTINE ANTS?
Argentine ants are difficult to control. There is no quick solution to get rid of them. It can take a significant amount of time to successfully eliminate these ants as their colony sizes are so large. Repairing water leaks, removing debris in your yard, trimming back vegetation around your home, and proper food storage will limit infestations. If Argentine ants have already invaded your home, our ant exterminators at AWC will efficiently eliminate your ant problem.