WHAT ARE BIG-HEADED ANTS?
Originally from Africa, big-headed ants are an invasive species in the United States. These ants are relatively large when compared to other ant species. They also have a disproportionately large head, hence their name. Like most ants, big-headed ants love the honeydew produced by aphids. 
Color
: Reddish-Brown
Size
: 1/8 – 1/4 inches (3-6 mm)
Legs
: 6
Antennae
: Yes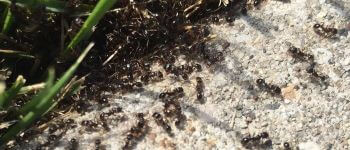 HABITAT
Big-headed ants prefer to nest in soil, especially under logs, debris, and potted house plants. They have also been known to nest inside rotted wood. Colonies can grow quite large, containing thousands of ants with multiple subcolonies and queens. In the United States, big-headed ants are found along the southeast Gulf Coast.
HOW TO GET RID OF BIG-HEADED ANTS?
Big-headed ants are difficult to control, primarily due to their large colonies. It can take a few days to eliminate these ants successfully. Repairing water leaks, proper food storage, and removing house plants that are prone to aphids will limit infestations. If big-headed ants have already invaded your home, our ant exterminators at AWC will efficiently eliminate your ant problem.