WHAT ARE CRAZY ANTS?
Originally from South America, crazy ants are an invasive species in the United States. They are a unique type of ant because of their erratic and unpredictable running movements. They also pack a painful bite, which causes a stinging sensation. Like most ants, crazy ants love sweet substances, especially honeydew from aphids.
Color
: Black
Size
: 1/8 inches (3 mm)
Legs
: 6
Antennae
: Yes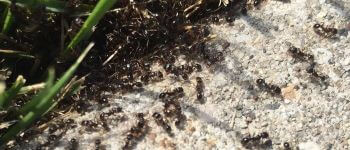 HABITAT
Crazy ants can be found in Texas and other Gulf Coast states. Luckily, they have not yet made a home in Wisconsin. They prefer to nest outside underneath debris or in landscaping. Colonies can grow quite large, containing thousands of ants and several queens. 
HOW TO GET RID OF CRAZY ANTS?
Crazy ants are difficult to control and require the help of a professional. It can take a few days to successfully eliminate these ants since their colony sizes are so large. Trimming back greenery and proper food storage will limit infestations. If crazy ants become a problem in Wisconsin, our ant exterminators at AWC are ready to help!