WHAT ARE FIELD ANTS?
Field ants are a common species of ants in Wisconsin. Also known as red ants or wood ants, field ants get their name from nesting outdoors. These ants primarily stay outside and rarely invade homes. Like most ants, field ants have quite the sweet tooth and love to feed on the honeydew created by aphids. They will gather and protect groups of aphids for their honeydew.
Color
: Yellow to Red
Size
: 1/8 – 3/8 inches (3-9 mm)
Legs
: 6
Antennae
: Yes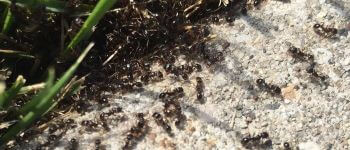 HABITAT
Field ants prefer to nest outside in yards, landscaping, or underneath trees and bushes. They create relatively large mounds of dirt up to 14 inches in diameter. Field ants are common throughout Wisconsin.
HOW TO GET RID OF FIELD ANTS?
Field ants do not pose any indoor issues. They rarely venture into people's homes in search of food and prefer to stay outside. The only concern with field ants is that their nests can grow to extreme sizes if not controlled. If field ants have become a problem in your yard, our ant exterminators at AWC will efficiently eliminate your ant problem.