WHAT ARE LITTLE BLACK ANTS?
As the name suggests, little black ants are tiny ants and are shiny jet-black, and they are a common species of ants in Wisconsin. They are a common home intruder during the spring and summer months when searching for food. Like most ants, they love sweet substances, especially honeydew produced from aphids. They will also consume bird droppings, dead insects, and human foods. 
Color
: Black
Size
: 1/16 inches (1-2 mm)
Legs
: 6
Antennae
: Yes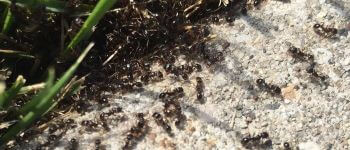 HABITAT
Little black ants prefer to nest outdoors in gardens and lawns. However, they will nest inside homes in moist areas, such as wall voids or floors damaged from moisture. Ant colonies can vary in size and will often have multiple queens.
HOW TO GET RID OF LITTLE BLACK ANTS?
Little black ants can become a serious nuisance if they gain entry into your home. Being scavengers, they will use pheromone trails to help other ants in their colony find newly discovered food sources. Proper food storage and waste management will help limit infestations. If little black ants have already invaded your home, our ant exterminators at AWC will efficiently eliminate your ant problem.