WHAT ARE ODOROUS HOUSE ANTS?
Odorous house ants are a common ant species in Wisconsin. They are named for the foul, rotten smell they give off when they are crushed. They are a common home intruder during the spring and summer months when searching for food. Like most ants, they enjoy sweet and sugary foods, especially honeydew from aphids. 
Color
: Brown to Black
Size
: 1/16 – 1/8 inches (1-3 mm)
Legs
: 6
Antennae
: Yes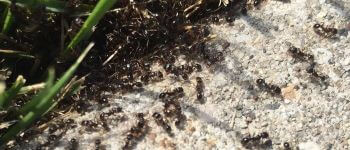 HABITAT
When formed outside, nests are typically underneath rocks or logs, but they are no stranger to nesting within human structures. Odorous house ants prefer to live in moist areas, particularly near water pipes, heaters, or under carpeting. Colonies can grow quite large, containing thousands of ants and several queens.
HOW TO GET RID OF ODOROUS HOUSE ANTS?
Odorous house ants can become a serious nuisance if they gain entry into your home. An easy way to eliminate these ants is to dry out the moist, damp areas they inhabit. Repairing water leaks and proper food storage will help limit infestations. If odorous house ants have already invaded your home, our ant exterminators at AWC will efficiently eliminate your ant problem.