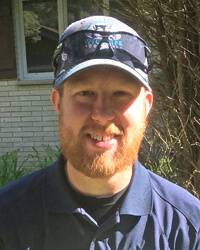 Licensed Animal & Wildlife Removal Technician

Licensed Endangered Species Specialist

Certified and Licensed in Structural Pests Control Category 7.1
DJ grew up in Palatine, Illinois, which is one of the Northwest suburbs of Chicago. He attended William Fremd High School where both of my parents were teachers. From there he migrated to central Indiana and attended Ball State University. At Ball State DJ joined the International Fraternity of Phi Gamma Delta, a leader in academics on campus, and received a degree in General Biology. The general biology degree is a perfect fit for a wildlife technician!
DJ has a passion for animals and while he lived in Indiana he volunteered at the Indianapolis Zoo and the Cool Creek Nature Center. Working with the zoo was one of the best experiences and it allowed him to work with animals that normally would not had the opportunity to.
DJ has an extreme love for the outdoors. His two favorite activities are camping and hiking. He is a regular fixture exploring state parks and is constantly planning his next outdoor adventure.
DJ is a perfect fit for our team due to his background knowledge of animals and their behaviors as well as his passion for the outdoors. Working with a company like ours gives DJ the chance to combine a few of his passions and work with customers in the service industry.
DJ has his pest control license and trapping license. He also attends courses for continued education in the animal and pest control field.
"Thank you DJ for coming quickly to our home for the inspection and repair. He is most pleasant and kind. Took the time to talk with me and explain what he believes occurred and what he and the company will do in the next 60 days."  – Eileen from Milwaukee, WI
"DJ was professional, on-time and very helpful with an distressing situation – raccoon babies in the attic. He took care of them quickly and humanely. I would recommend DJ and Advanced Wildlife Control to anyone with a wildlife issue."  – Lanette from Bay View, WI