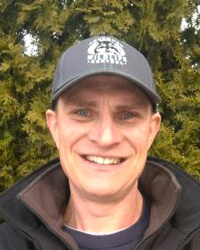 Licensed Animal & Wildlife Removal Technician

Licensed Endangered Species Specialist

Certified and Licensed in Structural Pests Control Category 7.1
Eric grew up in Eldorado, Wisconsin and attended Laconia high school. When he was not playing football or wrestling, Eric kept busy with FFA and his many science classes. Throughout his high school career, Eric soon realized that he had a passion for the outdoors. After graduating, he attended Fox Valley Technical College for Natural Resources.
After college, Eric took a job with the US Forest Service working at Ottawa National Forest in Ironwood, Michigan as an invasive plant specialist. His duties included working with the land, minerals, assisting with mine closures and engineering solutions for the removal of problematic beaver dams. While at Ottawa National Forest, he applied for and was accepted to the police academy program at Fox Valley Technical College.
After graduating from the police academy, he started as a park ranger for the Wisconsin DNR working at Peninsula State Park in Door County. Eric considers Door County his second home as he has been going to his family's cottage in Brussels since he was just a child. During his years as a park ranger, Eric wanted to be closer to his family so he took a position at the Kettle Moraine State Forest in the Northern Unit. Eric holds both a structural pest control license and a Wisconsin trapping license. He was fortunate to have attended the DNR Fur School in Madison, Wisconsin.
While working at the Kettle Moraine State Forest park, he met his now wife, Angelica. Eric and Angelica bought her grandparents home just north of West Bend. They share it with their dog, four cats, a tortoise named Eleanor and too many chickens to count. They are both passionate about the outdoors and enjoy hunting and fishing. Eric also enjoys hobbies such as snorkeling, scuba-diving and metal-detecting in his free time.
"Eric Wachdorf is our service technician from Advanced Wildlife. We are so impressed with Eric's knowledge, perseverance, clear communication, attentiveness and conscientiousness. We look forward to working with him in the future."  – Candy from Menomonee Falls, WI
"Eric W. is THE best! He is professional and extremely persistent. His calm yet demeanor was exactly what we needed when dealing with a rodent that just wasn't wanting to leave our house! Thanks to Eric we are all sleeping better!"  – Ann from Shorewood, WI