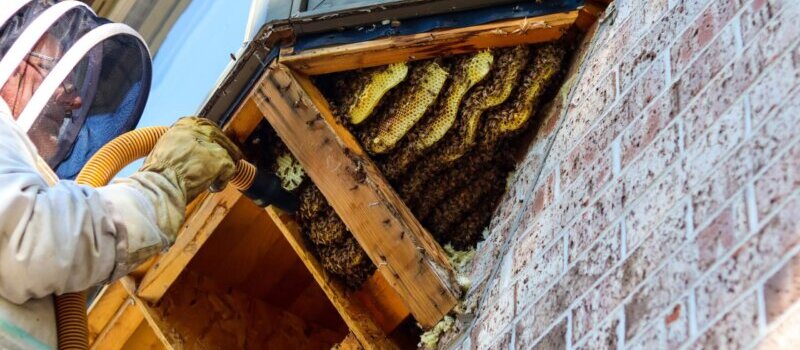 Honey Bee Removal & Honey Bee Awareness
Posted on August 26, 2020 – Written By Advanced Wildlife Control
Honey Bees play a vital role in our environment. They are responsible for one-third of the food we eat on a daily basis. However, having bees around or in your house can become a problem. Follow along to learn about safe ways to deal with honey bees and honey bee awareness. #SavetheBees
Table of Contents
Reasons to Remove Bee Hives
4 Step Plan – When You Find a Bee Hive at Home
How to Safely Get Rid of Honey Bees?
Honey Bee Awareness: Ways to Save the Bees
Conclusion
Reasons to Remove Bee Hives
Bee Sting Allergies
Bee stings can be quite severe or deadly to people with allergies to bees. Making sure there are no beehives around your home could save a visit to the emergency room or even someone's life.
Bee Attacks
Most bees aren't that aggressive. However, if you provoke them or get to close to their hive, they will protect their nest and attack you.
Bee Stings
Having a beehive on your house, patio, or playset can increase the chances of being stung by a bee. And we all can agree that bee stings hurt.
Damage to Your Property
If a beehive is not taken care of right away, the colony will continue to grow. Large bee colonies can cause severe structural damage to your home's walls, roofs, windows, and gutters. Honey overflows can also leave stains to your siding or interior walls.
Our 4-Step Action Plan: When You Find a Bee Hive at Home
We love our bees. They do so much for our environment. However, bees can be quite problematic when a beehive is found in, on, or near your house. Here is our recommend 4-Step Action Plan when you find a bee-hive or wasp nest in or around your home. 
1.) Locate
Have you noticed swarms of bees around your house? Or even some bees inside your home? Well, if you do, there is a chance you have a beehive. Try to locate the source of the bees.
2.) Don't Provoke
Give the bees some space. Do not provoke them because they will attack if you do. Also, make sure to keep your children and pets away from the hive.
3.) Call the Professionals
Call your local beekeeper or pest control company to deal with serious bee problems. Beehive removal should be done by professionals. We do not want you to risk getting hurt from removing it yourself.
4.) Clean & Repair
Honey can attract other animals and insects. So make sure to clean up any honey left behind. Large beehive removals may require a beekeeper to open up a wall in your house. Therefore, make sure to get those areas repaired as soon as possible.
Professional Bee Removal: How to Safely Get Rid of Honey Bees?
One question we here at Advanced Wildlife Control get all the time is –
"As a pest control company, how do you deal with honey bees? How do you remove their hives? Do you kill honey bees? Don't you know they are important to our environment?"
To answer these questions, I will use one of our company's core values.
Core Value #3: Our Environment
God has blessed us with a wonderful & beautiful world. Therefore, in the most possible means, we strive to be humane and environmental-friendly in all our work.
Therefore, just as we will humanely remove and relocate the animals we catch for our clients, we will call up our fellow bee-keeper friend, Mike Metz, to safely remove and relocate honey bees. Mike has been a beekeeper for over 10 years and has been a great contact for our company when we run into honey bee problems. Check out the video below to see Mike in action as he removes a huge honey bee hive under a second-story bay window.
Honey Bee Awareness: Ways to Save the Bees
Bees are not the only thing that helps pollinate our foods and flowers. Birds, butterflies, ants, the wind, and other insects play a role in pollination. However, the honey bee is responsible for 75% of that pollination, especially to our essential crops.
Since honey bees are so important to our environment, there are many ways we can help our bees. #SavetheBees Check out these fantastic ways provided by The Honeybee Conservancy on how "you can help bees thrive, from the comfort from home or out in your community."
> Plant a Bee Garden
Bee gardens provide bees a
"safe habitat where they build homes and find a variety of nutritious food sources."
Want to Create a Be
e Garden?
> Plant More Trees for Bees
"Did you know that bees get most of their nectar from trees? When a tree blooms, it provides hundreds – if not thousands – of blossoms to feed from. Trees are not only a great food source for bees, but also an essential habitat."
> Support Local Beekeepers and Organizations
"Local beekeepers work hard to nurture their bees and the local community. The easiest way to show your appreciation is to buy locally-made honey and beeswax products."
  Support our fellow bee-keeper friend,
Mike Metz's company – Seven Hill Honey.
Conclusion
Honey Bees are truly amazing insects – partaking in 75% of the pollination that occurs in our world & contributing to a 1/3 of the food we eat.
#SavetheBees 
How is Advanced Wildlife Control going "bee-friendly?" When it comes to pest control, we are avoiding all flowers, gardens, and fruit-bearing trees and bushes when spraying pesticides. When we have customers with honey bee problems, we will contact our bee-keeper friend, Mike Metz, to safely remove and relocate the honey bees.
I hope you enjoyed our blog & video about Honey Bee Removal & Honey Bee Awareness. I hope you learned something new about honey bees today and become an advocate for our bees. God Bless.

With over 30+ years in business, we know a thing or two about animals and insects. Check out our blogs full of helpful tips, news, stories, and information about the wonderful world of wildlife and bugs.