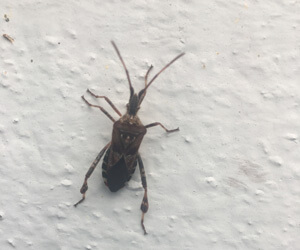 Brown Marmorated Stink Bug are a fairly new species that was imported from the Far East.   They attract attention in part because they are very large insects usually around 1/6 to ¾ in. in size.
The bug survives the winter as an adult by entering houses and structures when autumn evenings become colder. In one home in Pennsylvania more than 26,000 stinkbugs were found overwintering. They will enter under siding, into soffits, around window and door frames, chimneys, or any space which has openings big enough to fit through. Once inside the house, they will go into a state of hibernation.
Adults can live from several months to a year.  Adults will emerge sometime in the spring  (late April to mid-May), and mate and deposit eggs from May through August. The eggs hatch into small black and red nymphs that go through five molts. Adults begin to search for overwintering sites starting in September through the first half of October.
In its native range, it feeds on a wide variety of host plants and fruits including: apples, peaches, figs, mulberries, citrus fruits and persimmons. This true bug has also been reported on many ornamental plants, weeds, soybeans and beans for human consumption.  The biggest issue resides in the odor that is left by these smelly little bugs.
Advanced Wildlife Control – Brown Marmorated Stink Bug Control Methods:
We spray during the spring and fall around the outside of the home. It's most important part of successful control of stink bugs during these two seasons.
DID YOU KNOW?
The Brown Marmorated Stink Bug Caused $37 Million in Losses to Mid-Atlantic apple growers!