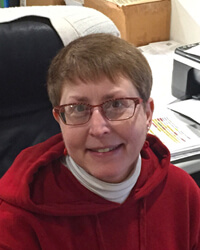 Jenny grew up in Sheboygan and received her bachelor's degree in psychology from St. Norbert College. She has worked as a customer service representative at a number of printing companies as well as an aluminum casting company.
She has lived in Rockledge, Florida and Alpharetta, Georgia, and currently resides in Grafton. She is married to her high school sweetheart, Scott. He's employed at Cedar Crest Ice Cream and is a deacon with the Archdiocese of Milwaukee. They have two adult children – Ben (fiancée, Lauren) and Emilee.
Jenny and her family are HUGE Packer fans and very active members at St. Joseph Parish. They've attended a number of Work Camp trips where they assisted communities with painting and repair projects, and she and Scott currently work with engaged couples. She enjoys spending time with her family, attending community events and concerts, as well as reading, knitting and crocheting.
Jenny has been a great addition to our company. She is very pleasant, has a positive attitude and a great person to talk with. She is one of our secretaries and schedules appointments for our technicians.