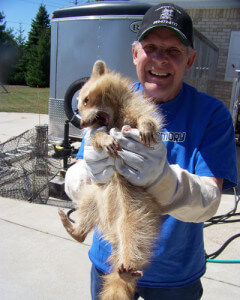 I would like to take this opportunity to provide a brief background for my family and myself. My grandfather made his living selling cattle and riding horses in the Upper Peninsula and in later years, the north side of Milwaukee County.
My father, Carl was also a livestock dealer, selling mostly beef and dairy cattle. I, on the other hand, was more interested in wildlife. As soon as I was old enough, nearly all my time was spent hunting and trapping. I really enjoyed pheasant hunting and raised purebred English Setters for many years. My trapping efforts were centered on muskrat, mink, raccoon, and fox. In 1966, I realized my dream of an Alaskan hunting trip. I went for 2 weeks, but I ended up staying for 3 months! I came back with a record book moose, a full curled Dall Sheep and a nice caribou.
By the 80's, I decided to see if all my wildlife knowledge could be turned into a business. We started small but are now, probably, the largest animal removal service in Southeastern Wisconsin. I am a Certified Wildlife Control Professional in Southeast Wisconsin. Also, I was the Vice President of WWCOA (Wisconsin Wildlife Control Operators Association). Member of both the WTA (Wisconsin Trappers Association) and NWCOA (National Wildlife Control Operators Association) since they began. Certified in all trapping and wildlife licensures as well as having a certification in Pest Control and Rodent Control. I have appeared on ABC, NBC, CBS, and FOX television news programs.
Currently, I write articles for the Wildlife Control Technologies magazine which is a national publication.  Also, I have been a speaker at the WCT/NWCOA seminar in Las Vegas and the WWCOA seminar in Wisconsin Dells. I have been happily married for over 45 years and have 3 children (all married) and 8 grandchildren.
We are members of Calvary Lutheran Church in Thiensville and feel truly blessed for all the blessings that God has bestowed on me throughout my life!