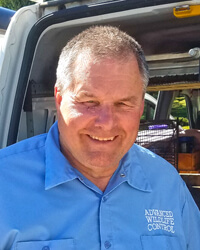 Licensed Animal & Wildlife Removal Technician

Certified and Licensed in Structural Pests Control Category 7.1
Mike is one of our part time employees. He joined us in spring of 2017.  Mike has his trapping license and holds a pest control license as well. You'll see him working the weekends and filling in when we're shorthanded. Mike retired after 30 years on a local Police Department & he comes to us with a wealth of knowledge. He is married with two adult children & has a yellow Labrador. Mike is very active in his free time as he is an avid skier in the winter and he loves to go fishing during the summer.