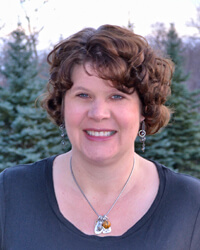 Stacy was the first technician ever to join Advanced Wildlife Control. She like many other employees attended Kettle Moraine Lutheran High School where she had a very successful run in both volleyball and basketball. After graduating from Kettle, she went on to Concordia University where she continued playing sports and is a member of the 1,000 point club and is still in the top 10 in rebounding. Stacy graduated with a degree in Biology which was extremely well suited for our company.
Stacy started out as a service technician and still goes out in the field occasionally, but is currently working as one of our secretaries. Stacy is also a licensed pest control and wildlife technician.
Stacy is married to Tom Stuck who helps design our web sites and is one of our full-time technicians. She is a proud mother of two boys, Brady who attends Wisconsin Lutheran College and Tanner, who attends Kettle Moraine Lutheran High School. She has two dogs, Chloe and Sally. Stacy and her family are members of Morningstar Lutheran Church in Jackson. Stacy is a hard worker and an important part of Advanced Wildlife Control Inc. future!