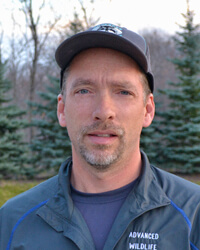 Pest Management Technician

Licensed Animal & Wildlife Removal Technician

Licensed Endangered Species Specialist

Certified and Licensed in Structural Pests Control Category 7.1

Certified and Licensed in Mosquito & Aquatic Pest Control Category 5.0

Certified and Licensed in Turf & Landscape Control Category 3.0

Bird Barrier Certified Technician
Tom attended Kewaskum High School in Kewaskum, WI. He was involved with many high school sports, played basketball, tennis and track events. Also, was the assistant coach for the girls varsity tennis team at KHS.
Tom has a passion for painting and the arts. He graduated from Milwaukee Institute of Art & Design and received a degree in design and illustration.
Tom was the bar manager at Barth's Linden Inn on Big Cedar Lake where he met his future bride, Stacy. They have two outstanding sons, Brady and Tanner. They currently live in the Hubertus/Richfield area and are members of Morningstar Lutheran Church.
Tom was as a graphic designer for a local printing company for about 18 years. Plus he worked part-time with us for over 10 years developing our websites, creating marketing collateral and helping with occasional field work.
Tom is a very handy technician and has been helping our company for a number of years. He has a general pest control license, an aquatic/mosquito license, and also has passed the Wisconsin Trappers Association course. He also holds an endangered species license which is used for handling species like bats. He has attended the National Wildlife Control Operators conferences held in Las Vegas, and the Wisconsin Wildlife Control Operators Association courses.
"Tom is great! He is truly knowledgeable about what job is at hand – we have gotten a good education… He is prompt for appointments which is so important. He is professional and very friendly – we feel like we are in great hands! Thanks Tom."  – Sheila from Colgate, WI
"A total of 9 raccoons and 1 Possum that have had taken residence in my backyard. Tom was outstanding! He did a great job! Friendly, professional and knowledgeable. A big shout out to Mike Shea as well as to Tanner Stuck who was subbing for his dad, Tom. The customer service staff was friendly and efficient. I am a first-time customer and will continue to do business with this company in the near future. I have recommended this company to my neighbors and friends. Thank you!"  – Nan from Menomonee Falls, WI