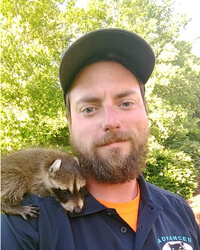 Licensed Animal & Wildlife Removal Technician

Licensed Endangered Species Specialist

Certified and Licensed in Structural Pests Control Category 7.1
Zach is originally from Michigan where his parents currently are WELS teachers at St. Lukes Lutheran School. Zach went to high school at Michigan Lutheran Seminary in Saginaw, Michigan.
Zach found out about us through his brother-in-law, who attended Kettle Moraine Lutheran with PJ. Zach was working down south when he decided to make the change to Wisconsin. He moved up from Atlanta, Georgia where he spent several years gaining experience in heavy equipment operation and carpentry. Zach started at Advanced Wildlife Control in 2012.
Zach is married to his wife Mandy. He has three step children and they reside in West Bend, WI. He enjoys dirt biking, sports, and is an avid fan of the Detroit Lions. We did hire him despite his love for the Lions. Zach is a great worker and we look forward to him having a long career with our company.
Zach has obtained his trapping license, a general pest control license, and endangered species license in the State of Wisconsin. Zach has attended both the National Wildlife Control Operators and the Wisconsin Wildlife Control Operators conferences in the past few years.
"Zach is very informative and knows how to handle the little varmints. He explains what his plan is and when he's finished with it, explains what he found and how he treated it. He is friendly but down to business. I highly recommend him. Thanks for doing such an awesome job!"  – Annette from West Bend, WI
"Zach is always concerned about taking care of our home and keeping the pests away. He's good with our pets and makes sure the products used to prevent rodent problems won't hurt them or other wildlife. He makes the house feel secure! Good guy."  – Kathy from New Berlin, WI