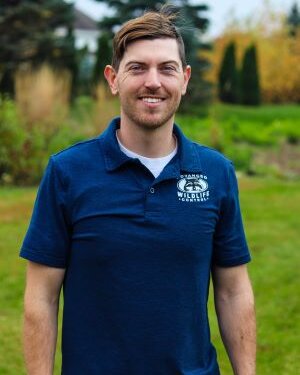 Field Technician
Marine Corps / Mr. Happy
John is a field technician at Advanced Wildlife Control. Passionate about his country, John enlisted into the Marine Corps and served his nation for several years. He met his wife, a fellow service member, during his time in the Marin Corps.
In 2016, he moved back to his home state of Wisconsin. 
John loves the outdoors and greatly enjoys being outside while working for Advanced Wildlife Control. He is one of our hardest workers and enjoys meeting new people every day. When he isn't working for AWC, you can usually find him fishing, hiking, riding his motorcycle, or spending time with his wife.
Licenses & Certifications
Licensed Animal & Wildlife Removal Technician
Certified and Licensed in Structural Pests Control Category 7.1
NWCOA Bat Standards Certified
"Tom is great! He is truly knowledgeable about what job is at hand – we have gotten a good education… He is prompt for appointments which is so important. He is professional and very friendly – we feel like we are in great hands! Thanks, Tom!"  
"A total of 9 raccoons and 1 Possum that have had taken residence in my backyard. Tom was outstanding! He did a great job! Friendly, professional, and knowledgeable. A big shout out to Mike Shea as well as to Tanner Stuck who was subbing for his dad, Tom. The customer service staff was friendly and efficient. I am a first-time customer and will continue to do business with this company in the near future. I have recommended this company to my neighbors and friends. Thank you!"