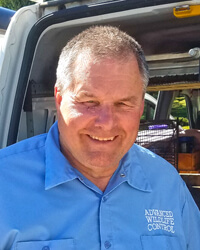 Field Technician
Skunk Lover / Story Teller
Mike is a part-time field technician at Advanced Wildlife Control. After working for the local Police Department for 30 years, Mike joined AWC with a wealth of knowledge and stories.
He works weekends for AWC and will provide backup on our busiest days. Mike loves helping people and is one of our hardest workers.
Mike has been known to use strange foods to bait traps for trapping animals. He once ordered a 6-piece chicken nugget from McDonald's to catch some skunks. He caught the skunk that night. When he isn't working for AWC, you can usually find him fishing or spending time with his family. He also loves to ski during the wintertime.
Licenses & Certifications
Licensed Animal & Wildlife Removal Technician
OSHA Certified Construction Industry Regulations (29 CFR 1926)
"Mitch did a great job climbing up on the roof of one of our buildings to get rid of a hornet's nest. He was very courteous and a nice young man. He even took the time to explain to my 5-year-old grandson exactly what he was doing. We love all of the great people at Advanced Wildlife Control and continue to use them for any pest removal problems that we have."
"Mitch was very, very friendly and personable. He thoroughly explained everything to us and was very knowledgeable. He offered several suggestions for us going forward, but was in no way pushy or trying to make a sale. We felt very comfortable having Mitch in our home. Excellent service at a reasonable price – looking forward to establishing a long-term relationship with Mitch taking care of the needs of our house – mice and other pests."