WHAT ARE ACROBAT ANTS?
Acrobat ants are a common species of ants in Wisconsin. They have a unique, heart-shaped abdomen which gives them the ability to raise their abdomen over their thorax and head. The abdominal behavior helps the ant produce a venom they use in defense and to sting their prey. Like most ants, acrobat ants love sweet substances, especially honeydew produced from aphids. 
Color
: Light Brown to Black
Size
: 1/8 inches (3 mm)
Legs
: 6
Antennae
: Yes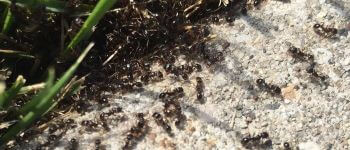 HABITAT
Like carpenter ants, acrobat ants prefer to nest in moist, rotted wood such as tree stumps, woodpiles, or decks. Most infestations originate from outdoor nests, but these ants will nest indoors if you have moist areas inside your home. A larger queen ant rules the ant colony with both worker and soldier ants.
HOW TO GET RID OF ACROBAT ANTS?
An easy way to eliminate acrobat ants is to dry out the moist, damp areas they inhabit. Repairing water leaks, improving air ventilation, and proper food storage will help limit infestations. If acrobat ants have already invaded your home, our ant exterminators at AWC will efficiently eliminate your ant problem.