WHAT ARE CARPENTER ANTS?
Carpenter ants are one of the most problematic ants in Wisconsin. They are not only a nuisance, but they can cause serious damage to your home's structural integrity. Carpenter ants build their nests inside of wood. However, they do not eat wood like termites; they just chew through it. Often confused with termites, the carpenter ant is the most common wood-destroying insect in Wisconsin. These ants are nocturnal and relatively large compared to other ant species.
Color
: Red to Black
Size
: 1/2 – 1 inches (12-25 mm)
Legs
: 6
Antennae
: Yes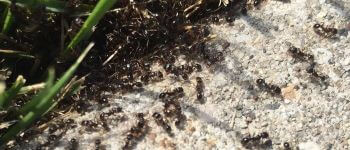 HABITAT
Carpenter ants prefer to nest in damp, rotted wood. They form extensive colonies that can contain anywhere from 50,000 to 100,000 ants. If not controlled, these ants can become a serious and costly problem for homeowners. The easiest way to identify a carpenter ant infestation is to find sawdust-like piles around the home. Areas most prone to carpenter ant infestations are decks, porches, under windows, and around roof eaves. 
HOW TO GET RID OF CARPENTER ANTS?
Carpenter ants are difficult to control and require the help of a professional. It can take a significant amount of time to eliminate these ants as they have multiple colonies. Repairing water leaks, tree maintenance, and trimming back vegetation around your home will limit infestations. If carpenter ants have already invaded your home, our ant exterminators at AWC will efficiently eliminate your ant problem.