WHAT ARE PAVEMENT ANTS?
Pavement ants are a common ant species in Wisconsin. They are actually an invasive species of ant that were brought over from Europe during early settlement. These tiny ants are very similar in appearance to little black ants. Pavement ants are often found nesting in or under pavement, hence their name. These ants will also host epic battles in the summer months as they try to expand their colonies into enemy ant territories. Like most ants, they love sweet and sugary substances.
Color
: Brown to Black
Size
: 1/8 inches (3 mm)
Legs
: 6
Antennae
: Yes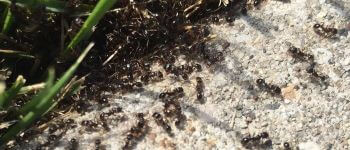 HABITAT
Pavement ants make their nests in or under cracks in your driveway or walkways. They will form small mounds of soil which help keep their nest cool during the summer months. Pavement ants will also build nests indoors in walls or floors damaged by moisture. 
HOW TO GET RID OF PAVEMENT ANTS?
An easy way to eliminate pavement ants is to dry out the moist, damp areas they inhabit. Repairing water leaks and proper food storage will help limit infestations. Their nests along driveways and walkways can also be an eyesore. If pavement ants have been a problem in your home and yard, our ant exterminators at AWC will efficiently eliminate your ant problem.