WHAT ARE THIEF ANTS?
Thief ants are one of the smallest species of ants. They are known for stealing food from other ants, hence their name. Thief ants will build nests very close to other ant nests since their primary food source is the other ant colony's food source. They are often confused with pharaoh ants and are called "grease ants" because they prefer greasy food over sweet foods.
Color
: Yellow to Dark Brown
Size
: 1/16 inches (1-2 mm)
Legs
: 6
Antennae
: Yes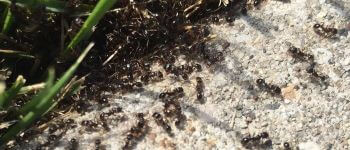 HABITAT
Thief ants will build their nests very close to, or even within, other ant nests so they can rob them of their food. Colonies are relatively small and often difficult to find, which makes them difficult to control. They will nest both outdoors and indoors, as long as it is close to other established ant colonies. 
HOW TO GET RID OF THIEF ANTS?
Due to the thief ant's small size, they are not often seen within homes. They mainly acquire their food from other ants. Thief ants can be challenging to control because they aren't attracted to many ant baits and because of their ability to make well-hidden nests. If thief ants have already invaded your home, our ant exterminators at AWC will efficiently eliminate your ant problem.