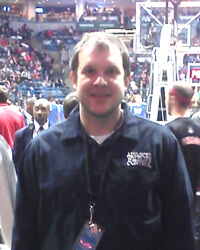 Manager and Co-Owner of Advanced Wildlife Control

Licensed Animal & Wildlife Removal Technician

Licensed Endangered Species Specialist

Certified and Licensed in Structural Pests Control Category 7.1

Member of the National Wildlife Control Operators Association (NWCOA)
PJ attended Peace Lutheran Grade School in Hartford, WI. He attended Kettle Moraine Lutheran High School where he was a three sport athlete in basketball, baseball and soccer. He was also a part of Kettle Moraine Lutherans state championship soccer team. PJ graduated from Concordia University in Mequon with a degree in Physical Education and had 3 minors in health, coaching, and adaptive physical education.
PJ worked at Barth's Linden Inn in West Bend and coached JV basketball at Port Washington High School. He has always been a part of Advanced Wildlife Control since his father started the business in 1988.
PJ and his wife Jenny (a Milwaukee Lutheran Graduate) live in Menomonee Falls and have 4 children Delaney, Carter, Griffin and Teagan. Jenny is a 3K teacher at Grace Lutheran in Menomonee Falls where their children attend school.
PJ has been featured on FOX 6 news three times in the past 3 years and also was on WISN. He was featured on the front page of the Milwaukee Journal Sentinel for removing a raccoon from a ladies attic in Mequon. He was a guest speaker at the National Seminar in Las Vegas and has attended the National Wildlife Control Operators Association Conference a number of times. PJ holds a general pest control license, a trapping license, and an endangered species license. He also holds a commercial pest control license.
"PJ has taken care of us for years. He handled a mouse issue for us and we have not had any issues since. He was persistent in working on the problem till we no longer had mice in the house. So thankful. PJ takes care of the issue on the outside, so we have little issue on the inside. But he is also checking and spraying inside. A great young man who cares about his customers and works hard to resolve issues. It has been fun to see his business grow and I recommend him to many people."  – Linda from Pewaukee, WI
"PJ has been taking care of our home for over 10 years. We have never had a bug problem either inside or outside our home since we started with PJ. PJ and his company are wonderful! Thank you so much. We are so grateful to you."  – Ron from Port Washington, WI