WHAT ARE YELLOW JACKETS?
Yellowjackets are the most aggressive stinging insects because they will sting multiple times. They prey on smaller insects and will interrupt picnics looking for sweet foods to consume. Often confused with paper wasps, yellow jackets are slightly smaller. Yellowjacket stings are quite painful and can be life-threatening to those with stinging insect allergies.
Color
: Yellow & Black
Size
: 3/8 – 5/8 inches
Legs
: 6
Antennae
: Yes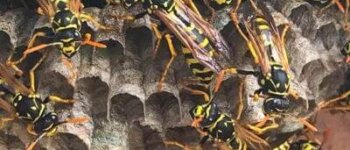 HABITAT
Yellowjackets build paper-like nests underground and on trees, houses, sheds, and other structures. They chew up plant materials and soil to make the papery substance. Nests can grow larger than a volleyball in size. Colonies contain 3000 to 4000 yellow jackets with one fertile female queen that lays all the eggs.
HOW TO GET RID OF YELLOW JACKETS?
Yellowjackets are very dangerous for anyone who stumbles across a nest, especially someone with stinging insect allergies. Many homeowners also find the paper nests unappealing on their house. Our stinging insect exterminators at AWC will efficiently remove nests from your property and treat problem areas to prevent future problems.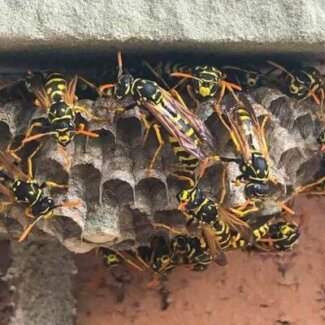 TYPES OF STINGING INSECTS IN WISCONSIN