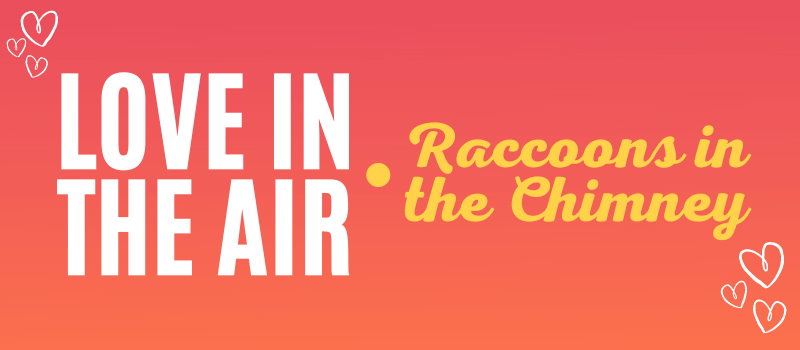 It's February, and you know what that means … it's the month of LOVE! Every store is covered in pink and red with hearts, balloons, flowers, stuffed animals, and, most importantly, chocolate! Some people celebrate Valentine's Day and romantic love, others Valentine's Day and meaningful friendships, and others are not celebrating at all. Some animals are getting into the spirit of the month, though maybe not in ways we humans will enjoy.
Table of Contents
The Tough Love of a Raccoon
Why are Raccoons in my Chimney or Attic?
How to Get Rid of Raccoons in Chimney or Attic?
The Tough Love of a Raccoon
Raccoons are a particular culprit when it comes to celebrating the month of love in a less than savory way. Every year, around this time, we start to get an increase in calls of raccoons, causing a ruckus in peoples' attics and chimneys. Most raccoons will not be having babies quite yet. Mating season starts around the beginning of the new year, and a raccoon's pregnancy lasts about two months. However, female raccoons are starting to look for a safe place to raise their babies.
This safe place is essential for any soon-to-be mother raccoon. Raccoons do not have many natural predators. However, male raccoons have no qualms ridding a female of her babies to try to get her back into heat. So, unless the female raccoon can find a safe place where a male raccoon cannot easily find her and the babies, it could be bad news for her young.
Why are Raccoons in my Chimney or Attic?
One of the most popular places that a mother raccoon may try to raise her babies is your house's uncapped chimney or attic. This is particularly true if the chimney was used by a mother raccoon the previous year. A mother's intuition is real even in the wildlife kingdom. A mother raccoon will scale rain spouts, bushes, and trees to get access to your uncapped chimney. We have also seen them tear straight through soffits and fascias to gain entry into attics. You don't mess with a mother. However, there are ways to prevent this.
How to Get Rid of Raccoons in Chimney or Attic?
The best way to prevent raccoons from entering your chimney is by installing a chimney cap. Advanced Wildlife & Pest Control offers chimney cap installations. Our stainless steel chimney caps come with a lifetime guarantee and will keep all sorts of critters out of your chimney. If a mother raccoon has already moved in, make sure to give us a call to get her removed and get that chimney cap installed. If not, you may end up with a litter of raccoons in your house.
WELCOME TO THE AWC BLOG
Check out the latest tips, news, & stories about the wonderful world of wildlife and bugs.